Brian Butler - Why ARE we here?
There are said to be about 2 billion Christians, and possibly three billion Bibles in the world. Virtually all the 20-30,000 different churches use the same Bible.

Thanks to a man called Jerome, who translated the Bible into Latin in the 5th Century A.D., all printed Bibles contain the wrong number of books in a jumbled up incorrect order.
This incorrect format hides the balance of the original design, and obscures the thread of the Book, and makes understanding the Book more difficult.
A serious student of the Bible can overcome any difficulties this might cause when they appreciate the original structure of the Bible manuscripts.
The main theme of my book, 'Why ARE we here?' is to offer study aids, physical and spiritual 'keys' to gain better understanding of the Bible, and the meaning of life.
CHART OF THE ORIGINAL STRUCTURE OF THE HOLY BIBLE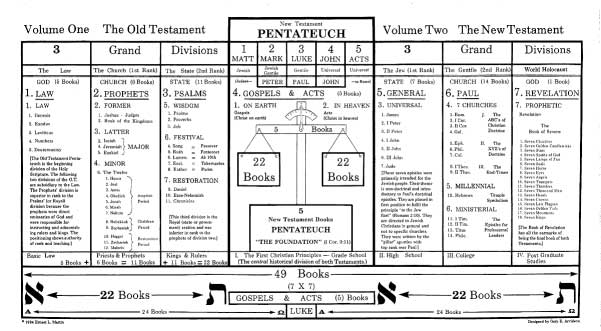 CHART OF THE ORIGINAL STRUCTURE OF THE HOLY BIBLE
This chart shows the Bible structure as it was in the original manuscripts of the Hebrew Canon of the Old Testament and the Greek Canon of the New Testament.
Canon means 'standard', and the standard structure of the Holy Scriptures of the Old Testament was constructed under the direct inspiration of Christ Jesus to Ezra in the 5th Century B.C., and the New Testament to John, the disciple Christ loved, at the end of the 1st Century A.D.
When this structure is understood, it reveals the exquisite numerical balance of the design. The Old Law was the first five books of the O.T., and the 'New Law' is contained in five books in the New Testament. This puts Christ's life and work in the centre of the Bible.